Residential Treatment Program
Round Lake Treatment Centre offers clinical expertise, combined with a personalized, practical, trauma informed approach to healing to help the client attain an alcohol and drug free lifestyle.
The Round Lake Treatment Centre provides a 42 or 49 day residential and motivational, experiential counselling program for clients who:
Have not fully recovered from the physiological effects of alcohol and drugs;
Do not require detoxification;
Are sufficiently emotionally stable to undertake intensive counselling, yet not requiring psychiatric treatment.
The treatment focus is on individual responsibility for thoughts, actions and behaviour. This works towards empowering individuals to accept personal responsibility and to help them recognize their own worth and potential.
The structure of the program is designed to address client needs and stabilization throughout the program and follows psychodynamic curve or strategies which:
Understands change dynamics;
Counsels people through the change;
Respects the client's right to choose;
Surfaces hidden or latent issues;
Addresses emotions and assists developing new coping strategies;
Treats the client as a highly capable and valued adult.
The first two weeks of treatment are referred to as the assessment phase in which the client is assessed and is also assessing whether or not the treatment services provided are an ideal fit. The assessment phase also presents topics that serve as the foundation for the work to come in the latter weeks.
The next two weeks are called the working phase, thus the topics covered typically concern the clients' core issues such as trauma or other interpersonal difficulties that require attention for optimum outcomes. The last two weeks of treatment are designed around preparatory or re-integration into community or going home needs in that relapse prevention and aftercare planning is top priority.  The client must prepare to build upon and reinforce the proceeding topics covered in recovery, wellness to ensure for skills acquisition and fidelity.
Program delivery is enhanced and supported by the resource persons, professional services of a registered psychologist, licensed nurses, videos and literature. The counsellors are certified addiction/wellness counsellors who are trauma trained and skilled workshop facilitators.
Clients have support and after-hours supports 24/7 with qualified staff scheduled on-site and with on-call service rotation of the counselling staff.
"Culture Is Treatment" is the philosophy of the Round Lake Treatment Centre. The program is grounded in cultural teachings and practices facilitated by elders and staff.  Round Lake Treatment Centre is committed to providing a welcoming and open environment of nonviolence, learning and collaboration.  Every emphasis is placed on the clients' need for physical and emotional safety while experiencing treatment services.
The Round Lake program presents a holistic approach to healing through the Medicine Wheel that fosters a reclaiming of self holistically and integrates balance and restoration in its balance of the physical, mental, spiritual and emotional aspects of individuals to all cultures and nationalities.
Out of respect for all belief systems, the spirituality components of the program will not interfere with, but enhance all of the clients' spiritual beliefs. Ceremony is an integral indispensable component of First Nations custom and traditions.  Ceremony is an honouring and a means of expression of inherent beliefs and values of First Nations culture.  Thus, other cultural components are:
The smudge ceremony is introduced then is conducted daily.  As part of their treatment, clients are provided material and sage to make their own smudge starter kits to take home with them.
Introduction of the Sweat lodge ceremony; the meaning, purpose and significant of ceremony are introduced.  Same gender staff and clients sweat together. The sweat lodge ceremony has a very spiritual and symbolic premise which assists to allow the clients to connect with those teachings.
We teach the basic principles of Native spirituality with the intention that clients will return home and incorporate their own traditions after consultation with Elders or other cultural resources in their community.
Elder resource persons are an important part of the program as they teach traditional teachings, pipe ceremonies, nature walks, harvesting of food, medicinal and ceremonial plants, language, and song.  Typically, clients will participate in the harvesting of plant medicines twice a year in the surrounding area of Round Lake which helps to foster a connection with Mother Earth.
Learning from the cultural component is built upon throughout a program and this cultural learning provides inspiration for the clients to further seek their own elders in their home communities.
The Centre practices trauma-informed care, recognizing that many individuals who experience problems with substance abuse have experienced trauma. We provide an environment of safety, choice and control which is key to empowering trauma survivors and ensuring they are not re-traumatized. As a result, our treatment's first concern is with providing a safe place, building trust for the client to commence work and regain self-esteem and worth, which are imperative to work towards embracing and fostering permanent change.
Therapeutic approaches include cognitive-behavioural theory, psychodynamic therapy, and sensorimotor psychotherapies. Most treatment processes are conducted in a group setting in which the clients learn how to interact, support and engage with their peers in a communal environment.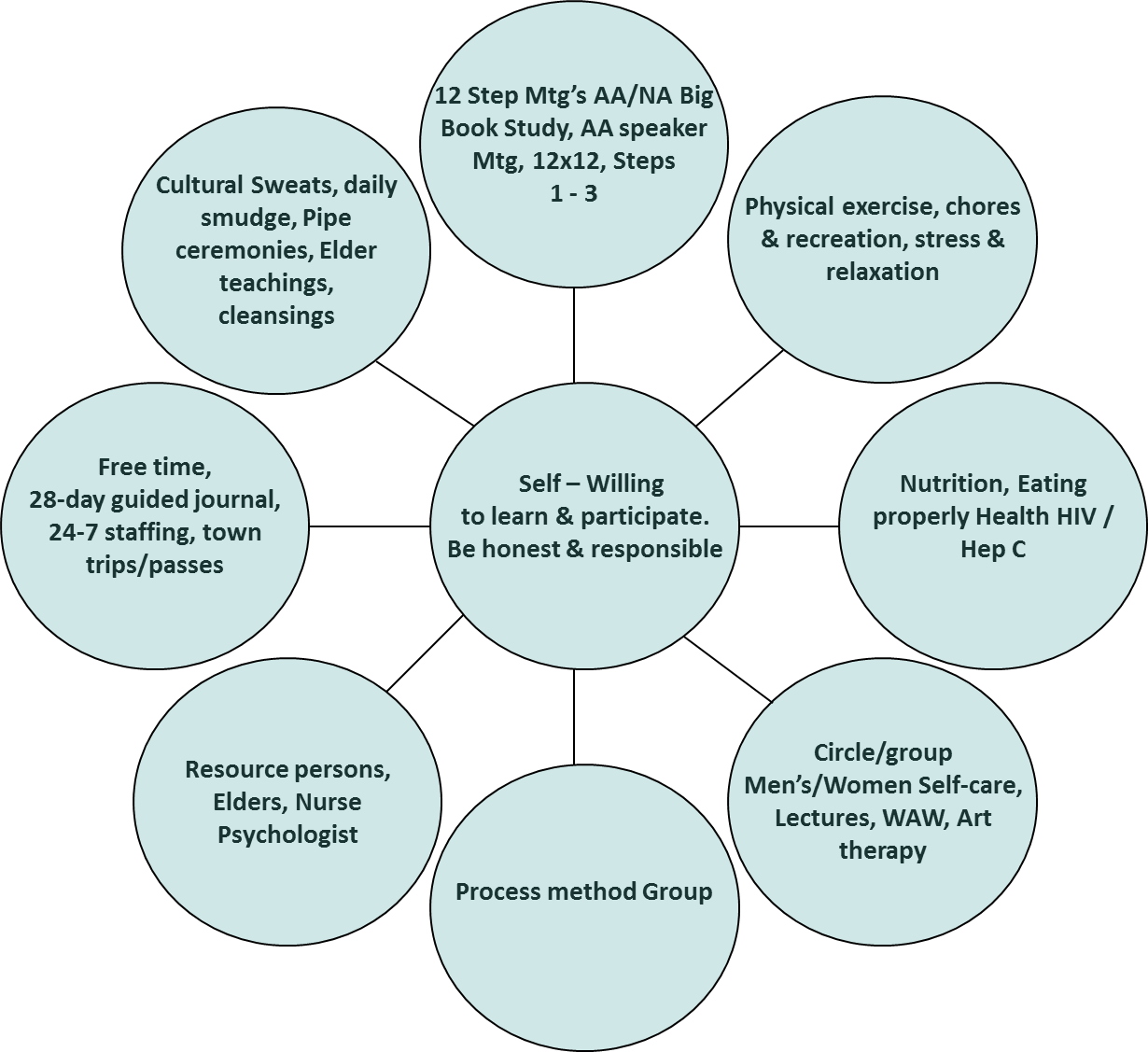 Both genders, over 19 years of age.
Individuals who have been withdrawn from alcohol and mood-altering drugs for a minimum of two (2) weeks and have participated in a minimum of six sessions with an Alcohol and Drug Counsellor or Referral Worker.
Applications are accepted by referral from an alcohol and drug counsellor or referral worker.  (see link)
At Round Lake, we offer comprehensive addiction treatment and recovery services. Our programs are customized to each patient's individual needs to provide focused, effective care. Please contact us today to learn more about our programs or to schedule a confidential consultation.
Testimonials
Love you guys and gals @ Round Lake. New life, here I come!
A wonderful personal learning.
Hell, Yes! Very powerful. Very impacting!!
Invaluable as an individual and as a professional.
It has brought me major breakthroughs in why my life has been the way it was. My life is changed forever for the better 🙂
I feel relieved, revitalized with hope, inspiration for a new beginning!
The environment and staff are amazing.
You bet!! My whole community if possible. My family. Friends. Current colleagues.