Message From Our President
On behalf of the Board of Directors, welcome to our website.  It is a pleasure to be a Board Member that continues to carry out the dream of Tinker Watts, J.D. Billy and the late Emery Louis and Les Williams.  The legacy of these men is reflected in Round Lake Treatment Centre; a treatment centre designed "by our people, for our people", vision that there is a better way to live;  generations of our children will be raised in a sober drug-free home and by people finding their identity through "Culture is Treatment".

Often as board members, we have the opportunity to reflect on "the dream" that one man had which has affected so many lives in a healthy manner.  We honour and celebrate the people who have chosen a sober way of life and extend our heart-felt prayers to those who did not or could not.

I want to thank the clients who had the courage to come to Round Lake and address their challenges that would lead to a better way of life.

O' Great Spirit

Help me always to speak the truth quietly, to listen with an open mind when others speak and to remember the peace that may be found in silence.  (Cherokee Prayer)

In the Spirit of Wellness,
Current Board
PRESIDENT:  Norma Manuel – nmanuel@cablelan.net
VICE PRESIDENT:  Richard Jackson Jr.
TREASURER:  Penny Lawrence 
SECRETARY:  Rick Aleck
CURRENT BOARD MEMBERS:
Stewart Phillip
Les Taylor
 Don Louis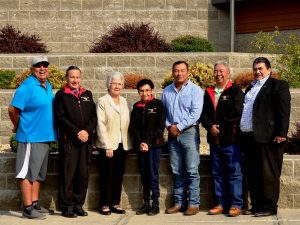 (Left to Right) Rick Aleck, Stewart Phillip, Norma Manuel, Penny Lawrence, Don Louis, Richard Jackson Jr., Les Taylor
A Lifelong Process
Your future wellness starts here